AAR Facilitates Donation of Aircraft to Rock Valley College Aviation Maintenance Program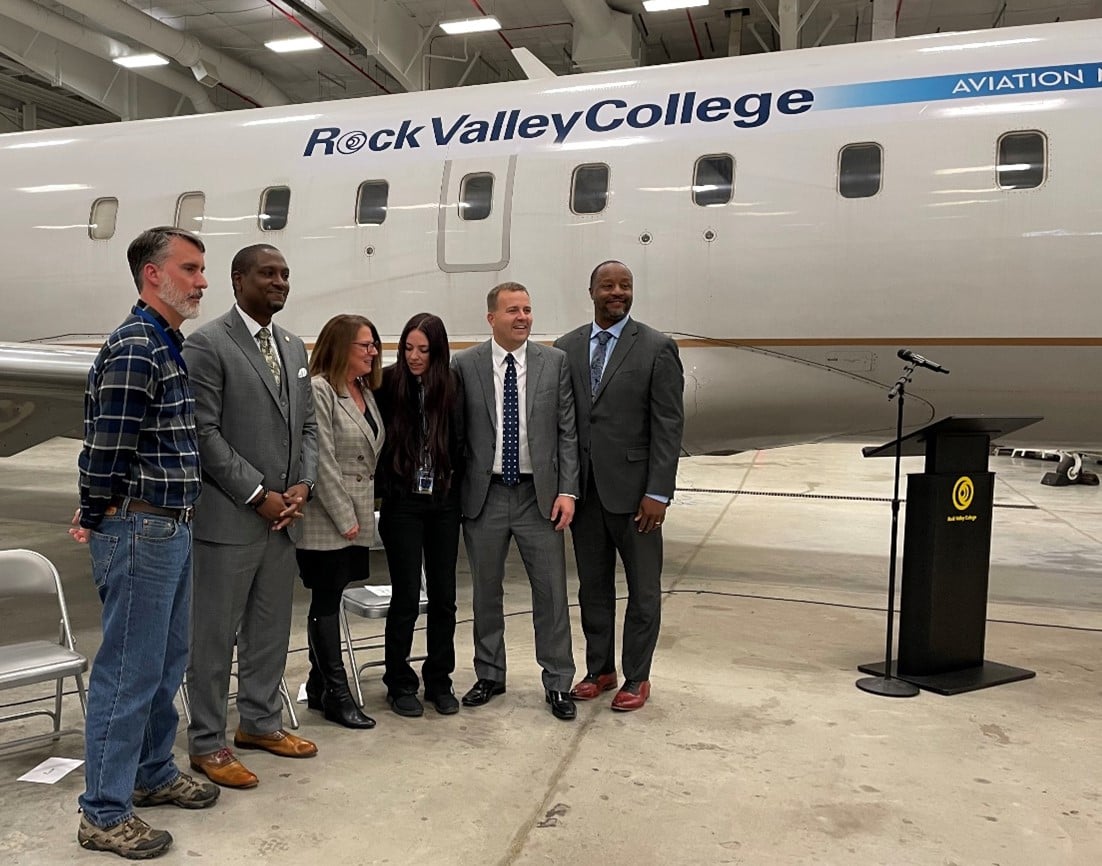 AAR CORP. (NYSE: AIR), a leading provider of aviation services to commercial and government operators, MROs, and OEMs, celebrated the fruition of collaborative efforts to donate a functional aircraft to Rock Valley College's Aviation Maintenance Program on October 18, 2022.
AAR partnered with the State of Illinois Department of Commerce and Economic Opportunity to provide funding, SkyWest Airlines to sell the aircraft and The Workforce Connection to manage the workforce development grant.  AAR is grateful to all parties involved who helped deliver a functional CRJ-200 aircraft that will further aviation-focused education in Illinois.
Leaders from education, industry, and government gathered at Rock Valley College to mark the first donation of a CRJ-200 to a community college. Illinois' Representative West, Rock Valley College's President Spearman, and AAR's Vice President of Workforce Development Ryan Goertzen, among others, provided brief remarks and described the journey to the momentous occasion. Students in attendance expressed enthusiasm for the addition of this aircraft into their program.
"Hands-on experience is key to developing as aviation maintenance technicians. However, students typically learn on old aircraft that are no longer functional," explained Goertzen. "Working on a modern, fully operational aircraft in an educational setting will transform aviation maintenance training." 
AAR will work alongside Rock Valley College to ensure the CRJ-200 is fully implemented into the college's aviation maintenance curriculum through a process that has been streamlined thanks to the new FAA part 147 regulation that went into effect on September 21.
This donation exemplifies AAR's commitment to creating opportunities and advancing the industry, and furthers its efforts to inspire an interest in aviation and connect students with career opportunities through its EAGLE and Fellowship Programs. AAR prides itself on moving the aviation industry forward through immersive learning opportunities and serving as a model for other organizations and educational institutions.
For more information on AAR, visit aarcorp.com/.