MV George III, the Newest Addition to Pasha Hawaii's Containership Fleet, Makes Her Inaugural Arrival at Honolulu Harbor's Pier 51
Arrival marks Hawaii's first containership to operate on liquified natural gas; company announces partnership with Hawaiian Legacy Reforestation Initiative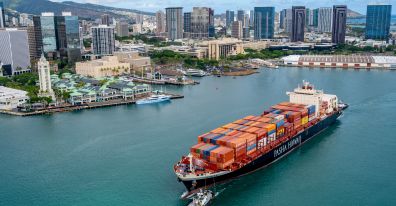 Pasha Hawaii marked three generations of service to Hawaii, with the arrival of MV George III, the first of two new 774-foot Liquified Natural Gas (LNG)-powered containerships scheduled to be completed this year as part of the company's 'Ohana Class vessels. 
Operating fully on natural gas from day one, the new Jones Act vessel surpasses the International Maritime Organization (IMO) 2030 emission standards for ocean vessels, representing the most technologically advanced and environmentally friendly vessel to serve Hawaii. Energy efficiencies are also achieved with a state-of-the-art engine, an optimized hull form, and an underwater propulsion system with a high-efficiency rudder and propeller.
A Hawaiian blessing, followed by a gathering of more than 200 employees at Pier 51, celebrated Hawaii's first natural gas-powered containership. The $225-plus million George III began her maiden voyage from the Port of Long Beach, California on August 20. The ship sails under the name George III in honor of Pasha Hawaii's President and CEO George Pasha, IV's late father, George Pasha, III.
George Pasha, III played an integral role in building the company's foundation, which led to the transformation of Pasha Hawaii into a world-class transportation company. Under the direction of George Pasha, III, the company entered the Hawaii/Mainland trade lane in 2005 with the introduction of the first and only domestic Jones Act qualified pure car truck carrier called MV Jean Anne, named after his mother. The launch of Jean Anne also marked the first time that Maui and the Big Island were provided with regularly scheduled direct service from the Mainland. George Pasha, III served as Chairman of the company until his passing in 2014. Honolulu will serve as the home port for George III.
"My father was the epitome of a true entrepreneur, whose aloha for the Islands guided him into building a company focused on serving the people of Hawaii," said George Pasha, IV, President and CEO, Pasha Hawaii. "He wanted to make a difference in the lives of those who call Hawaii home, by ensuring Hawaii's businesses had what they needed to provide for their customers. Designing a ship in his name that would set the bar in environmental sustainability for future ship building was a must. Hawaii is a special place with natural resources that need to be protected. I think my father would be proud of what we were able to accomplish."
 In conjunction with the arrival of George III, Pasha Hawaii also announced an alliance with the Hawaiian Legacy Reforestation Initiative (HLRI), with an initial $20,000 donation and the launch of a tree planting carbon offset program involving personal owned vehicles (POV) shipped to Hawaii on the Jean Anne. For every POV shipped, Pasha Hawaii will make a donation to HLRI to offset the carbon footprint of shipping a vehicle. Employees joined Pasha Hawaii President and CEO George Pasha, IV and his family for a tree planting ceremony at the newly named Pasha Hawaii Legacy Forest at Gunstock Ranch in Kahuku. HLRI presented the company with a second Pasha Hawaii Legacy Forest on the Big Island. Founded in 2014, HLRI is a Hawaii-based nonprofit organization whose mission is to restore Hawaii's native forests. As of 2020, HLRI has planted more than 500,000 Native Hawaiian trees over a seven-year period.
"Forests are the most effective and immediately scalable carbon capture systems on Earth. Restoring native forest ecosystems is the best way to reverse climate change and draw down on our carbon footprint. We are so fortunate to be partnering with Pasha Hawaii and supporting their commitment to making sustainability the solution…not just the option," said Francis Wong, Chairman of the Board, Hawaiian Legacy Reforestation Initiative.
To watch Pasha Hawaii's inaugural tree planting ceremony at the Pasha Hawaii Legacy Forest at Gunstock Ranch, view here.